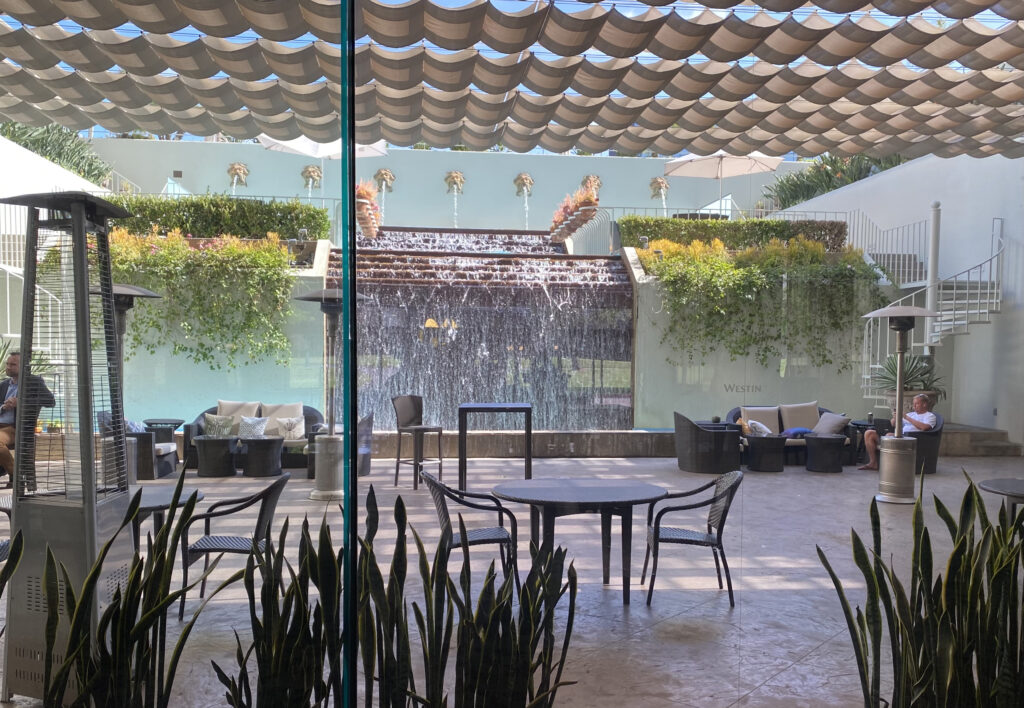 What makes a perfect getaway for a few days? For me, it's water, a beautiful hotel, shopping, some art, and good restaurants. I spent a couple of days in beautiful Costa Mesa and nearby areas with some girlfriends and found just that.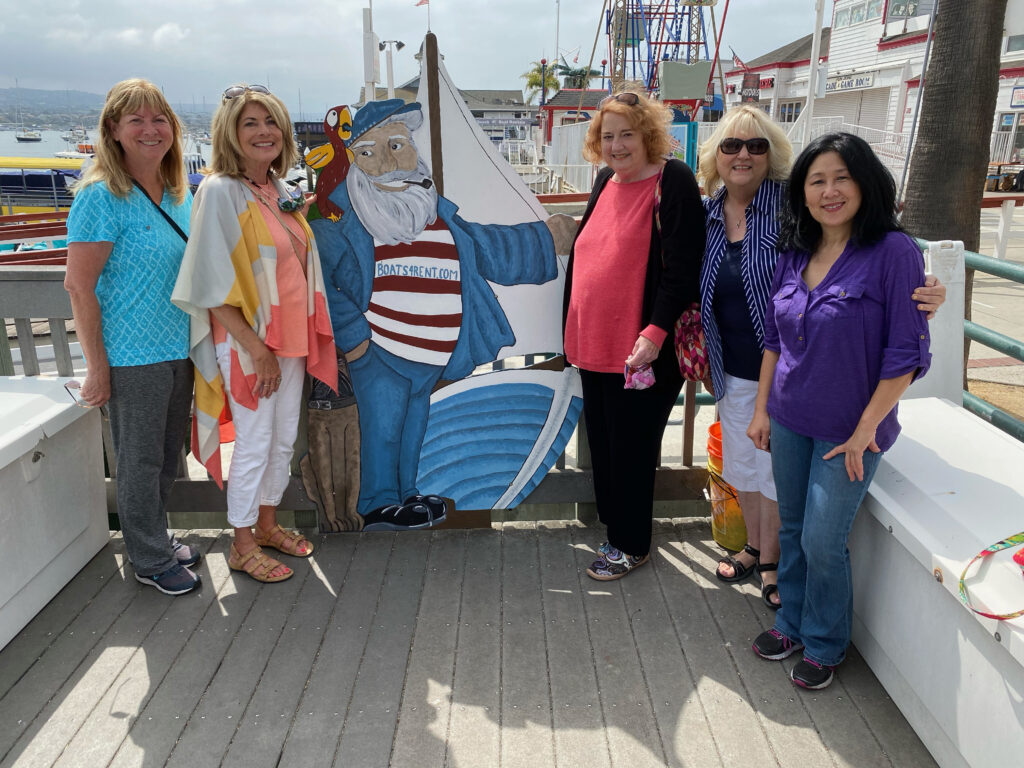 Newport Beach is the home to Duffy Boat Rentals, electric boats that can accommodate up to eight people. These little boats are meant to hang out with friends and cruise around Balboa Island. They have overhead canopies with operational window enclosures, and they are even equipped with a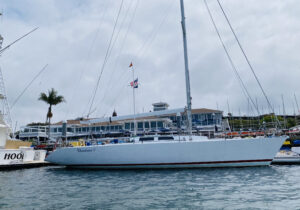 stereo system with Bluetooth connectivity. We brought aboard lunch and wine while we silently cruised past $14 million dollar homes and massive luxury yachts. This was a perfect way to feel like we were in another world.
Next, we checked into the luxurious Westin South Coast Plaza. The minute you enter the hotel, you feel like you are being pampered. Monique, a Westin specialist, showed us around and pointed out that from the hotel lobby you see one of the Art Walk sculptures, "Neptune Water Spouts", a ceramic work by Betty Davenport Ford. We loved the sound of the waterfall.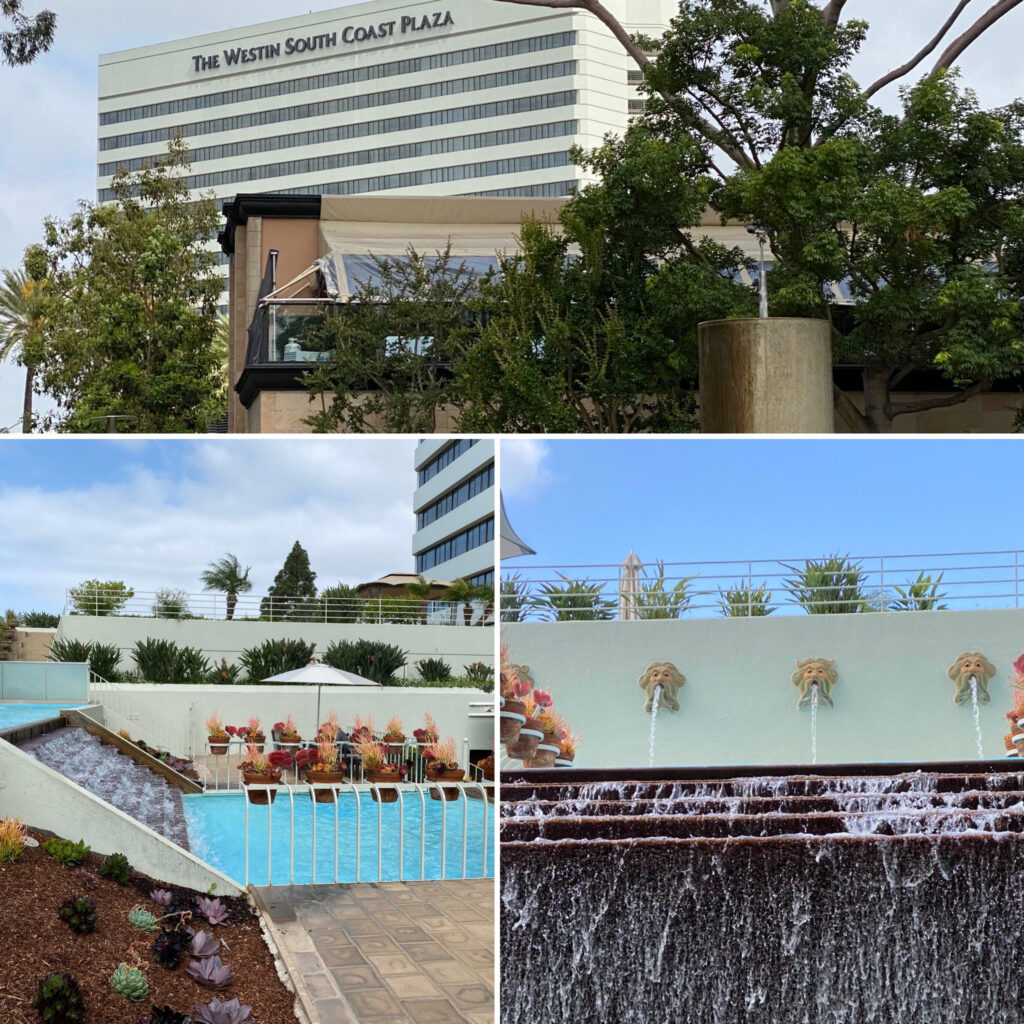 Of course Westins are known for their oh-so-comfortable beds, and I found this Westin to be no exception. A spectacular view at night of the city charmed me, too. If you have a dog and are so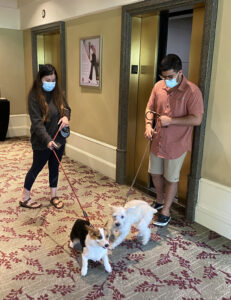 inclined to bring your pet along, this Westin has a Dogs Grab & Go spot where you see locals out walking their dogs and stopping by for treats for their Fidos and coffee and treats for themselves.
To me, the rooftop pool area with its lush plantings and table tennis setup was the perfect spot to look down on the outdoor lounge area as well as to check out the lemon trees that grow lemons for the lemonade made each day by the hotel.
If you plan to take in some culture, the Segerstrom Center for the Performing Arts, where you can see Tony award winning plays, dance, and orchestras, is within a few steps of the hotel.
The Westin South Coast Plaza is in the heart of the Costa Mesa Art Walk where you can take in over 20 pieces of public art by just stepping out the door of the hotel. My favorite was Fire Bird. We felt we were on an Easter Egg Hunt as we used the audio tour you will find in the above link.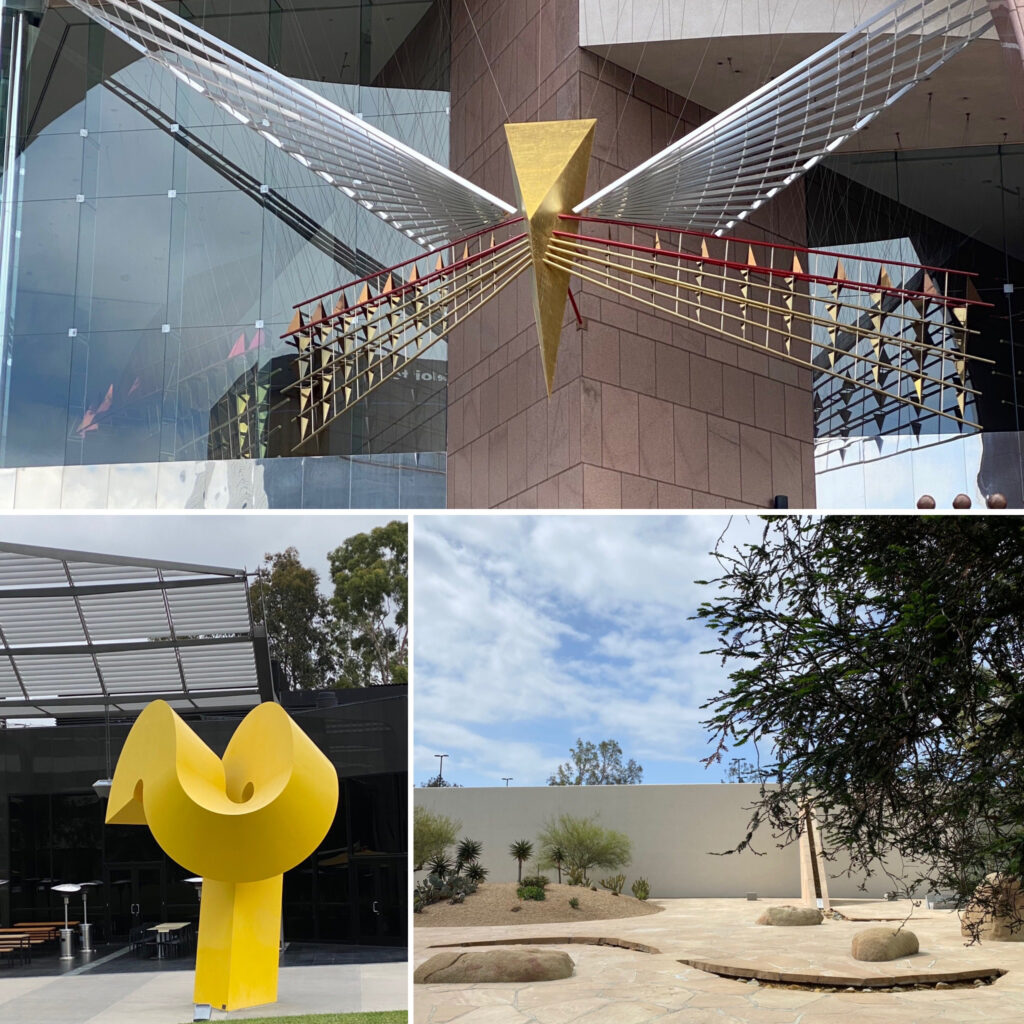 If you are in the mood for some marathon shopping, there is a path from the Westin leading to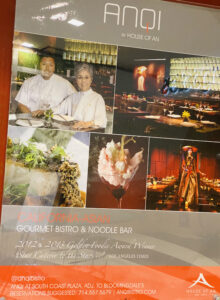 South Coast Plaza, a huge center with over 280 shops and restaurants.
After watching a webinar about the authentic Asian restaurant at South Coast Plaza called Anqi Bistro, this place was at the top of my list to visit. This amazing restaurant was started by Helene An, a dining dynasty and called the "mother of fusion cuisine." Helene started with an Italian restaurant in San Francisco where she told diners that if they liked spaghetti, they should try her version, and if they didn't like it, she would give their money back. This was how her famous "An's Famous Garlic Noodles" was born. The House of An now has six restaurants, and her daughters complete the House of An.
Nothing prepared me for the beauty we found as we entered this non-descript mall restaurant. Elegance and sensual blue lighting illuminated all parts of this large restaurant.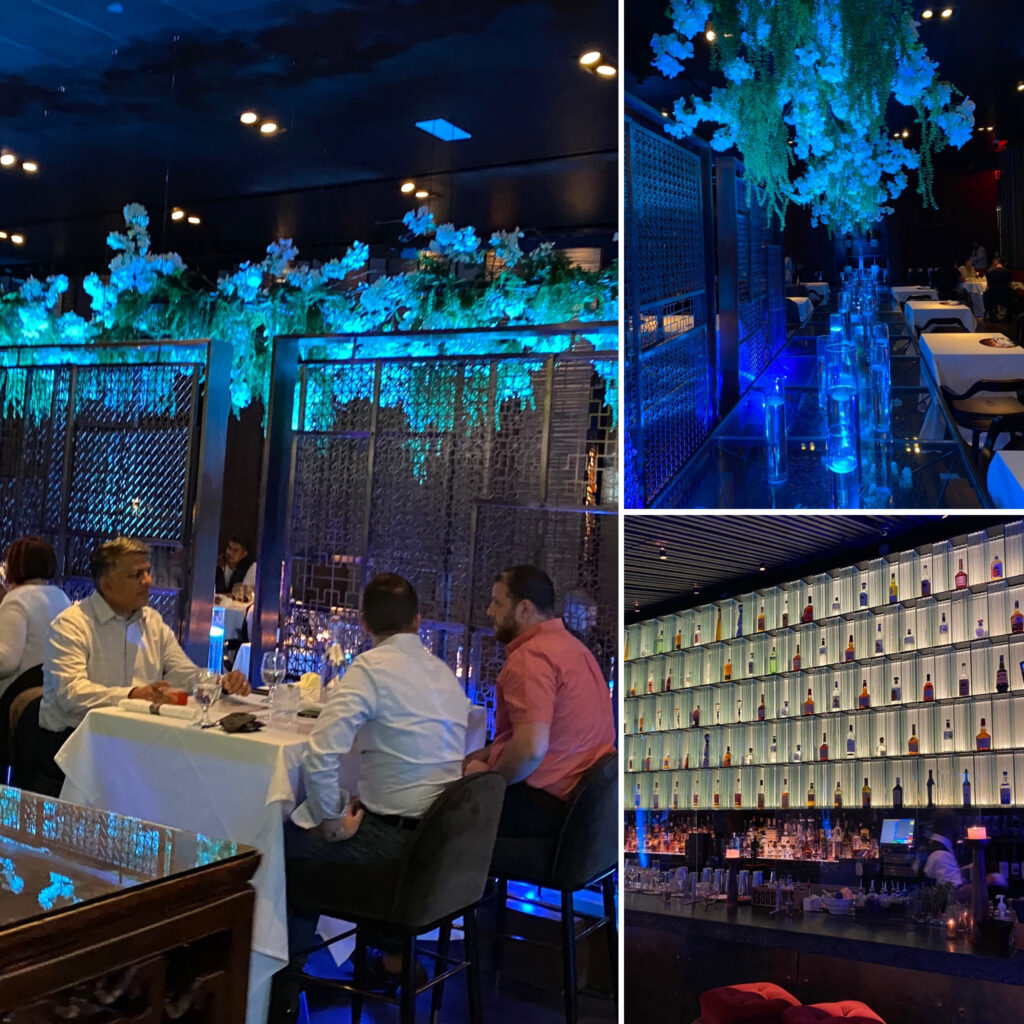 We were treated to some true fusion appetizers of Itamachi and Albacore Truffle Sashimi, Lobster Dumplings, and Filet Mignon Potstickers. A toast was made in anticipation of these mouth-watering appetizers with an elegant Lychee Nut Cocktail.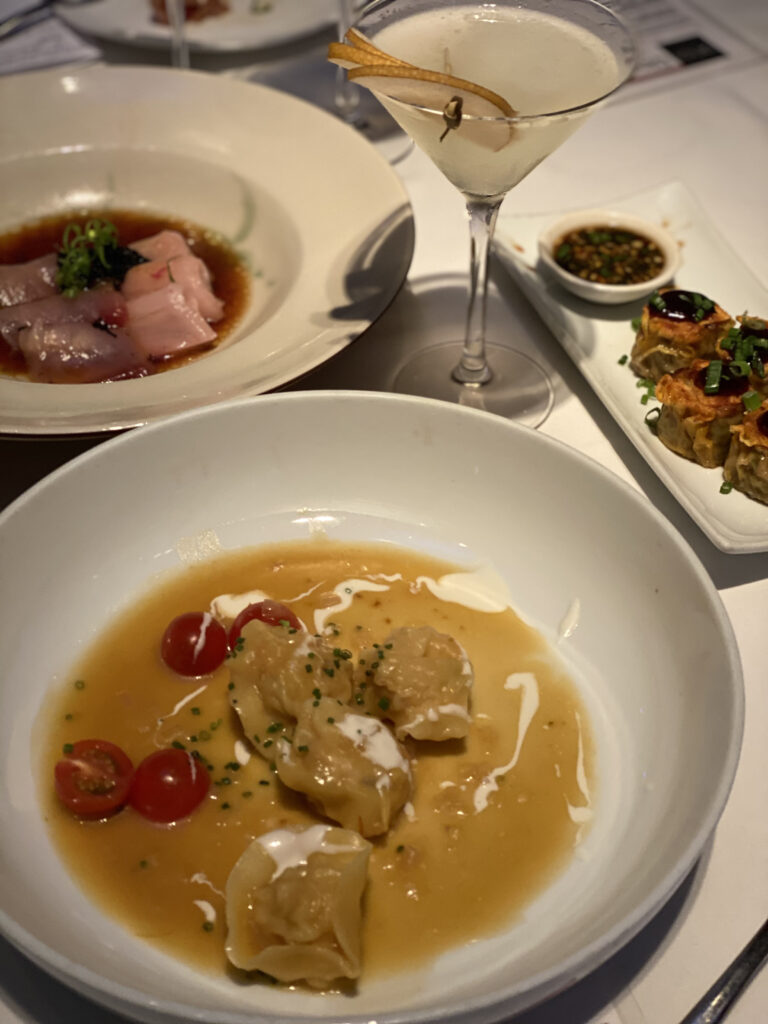 We followed the appetizers with the Shrimp and Lobster Wonton Soup, Salt & Pepper Calamari, and Kimchi Fried Rice. Of course, we had to order the An's Famous Garlic Noodles, too.
We encountered a lot of drama for dessert. Two of the chefs brought a bowl of dry ice with an ice cream mix to our table where they prepared a hard ice cream as we watched in awe. This was served over a giant chocolate chip cookie.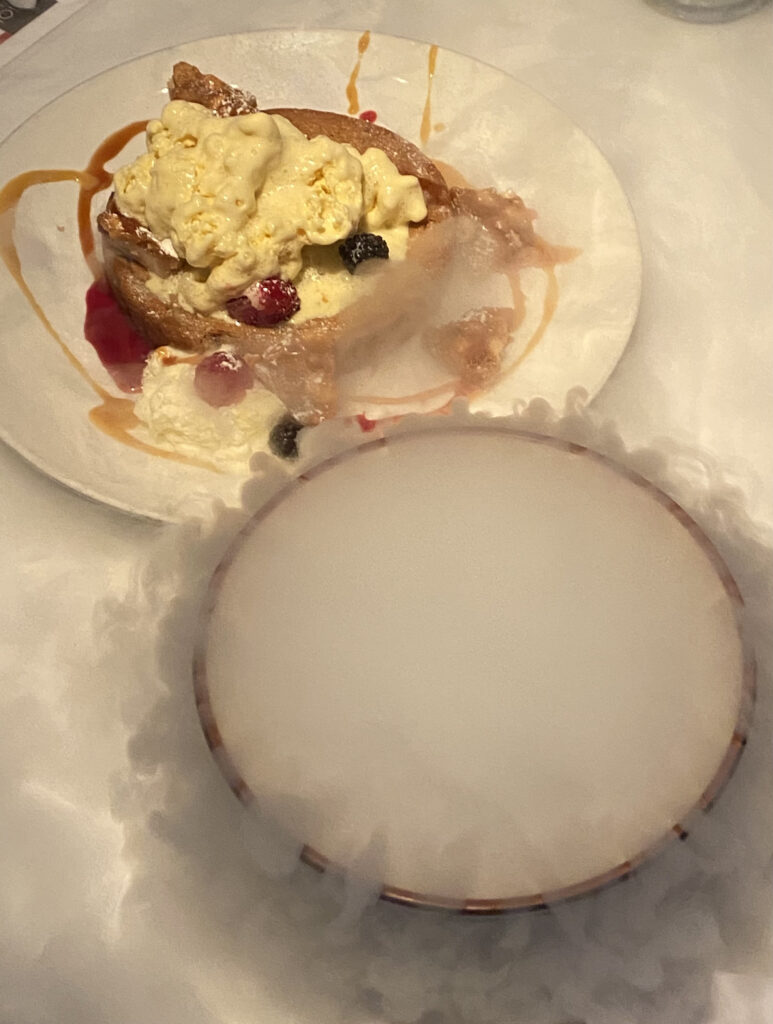 Needless to say, we were all planning our next visit back to this delicious and delightful restaurant.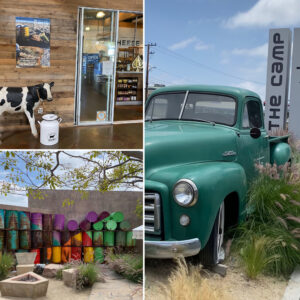 On to day two, a day of experiencing three anti-malls (a name they call themselves meaning they are not like your generic malls.) To read about them, go to my article: Three Fun Anti-Malls in Costa Mesa.
We had time the second day to visit Sherman Library and Gardens in Corona Del Mar, a nationally renowned botanical garden that evolves through the seasons. Sitting within the gardens is a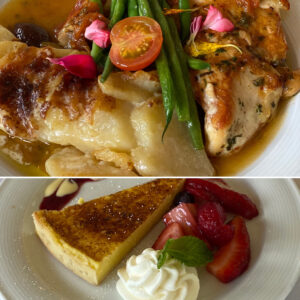 restaurant we have all loved for many years, Café Jardin, with the master French chef Pascal Olhats. We enjoyed one last farewell lunch by this top chef before he passed the wand to Chef Jessica Roy. My choice for lunch was the Chicken Breast Provencal. An elegant Key Lime Pie was shared by the group.
Chef Roy will open very soon with a fresh idea of a restaurant called Cultivar. Cultivar is a plant that has been selected for the best flowers or the best foliage or the best aromas. Roy will be foraging the Sherman gardens as well as local farms for the ever changing seasonal menu items, including edible blooms and herbs. There will be Seared Trout, Summer Potato and Heirloom Tomato Salad, as well as Vegetarian Tacos.
I encourage you to pack your bags and head to Costa Mesa as well as a few side trips to Newport Beach and Corona Del Mar. You will feel invigorated by this wonderful and luxurious mini vacation.
Thanks to Visit Newport Beach, Chef Pascal Olhats, Westin South Coast Plaza, and Travel Costa Mesa for a chance to explore some new places near us. While we were treated to this trip, I highly recommend all that I have mentioned.