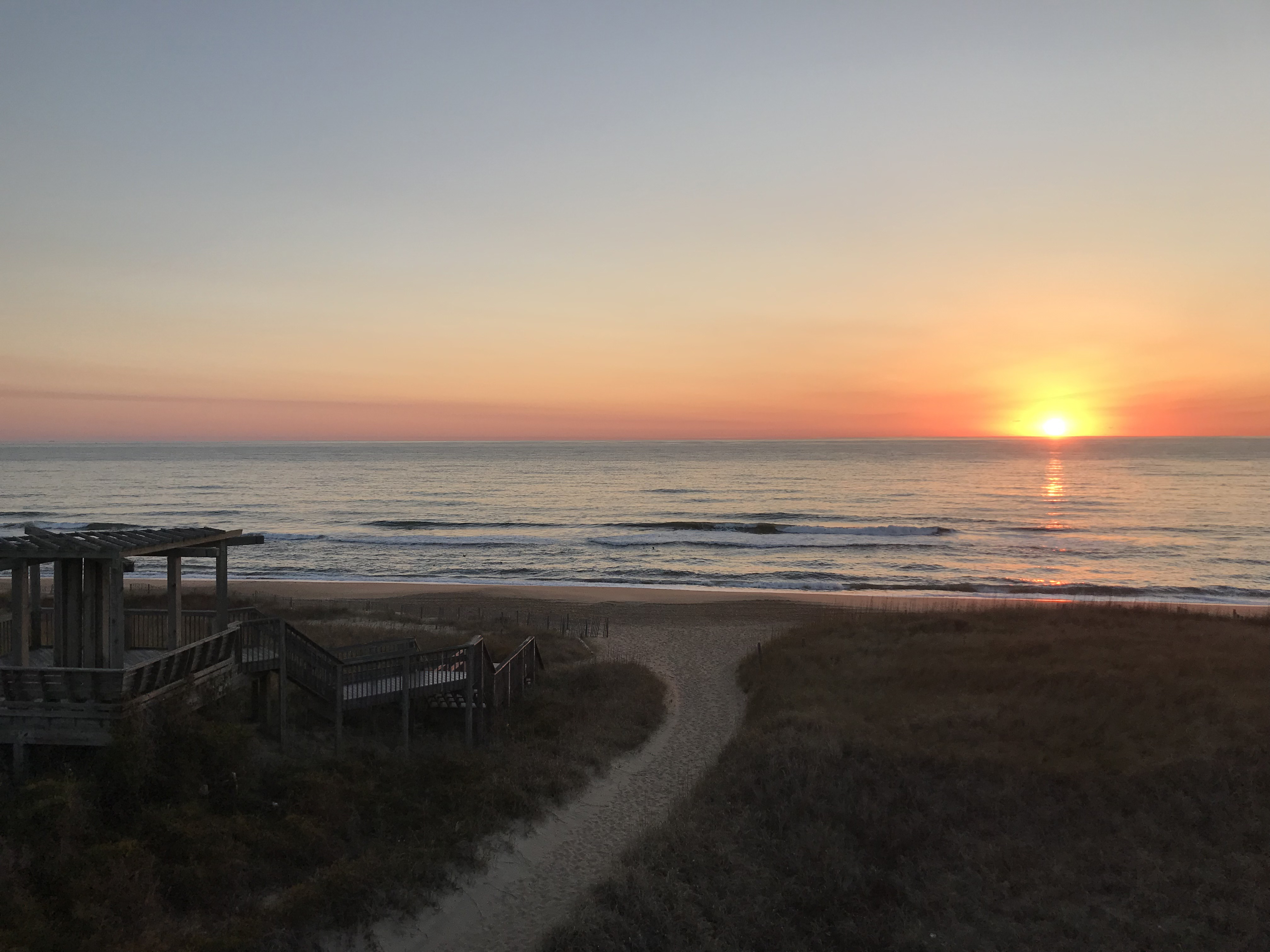 Torrential rain poured down on us amid crashing thunder and bolts of lightening as our ship sloshed in the wild cauldron of ocean water.  We saw a bobbing light in the distance that reassured us that another ship was also at sea. As we neared that light, our ship crashed onto land. We were thrown from one end of the deck to the other, and we heard the sound of splintering wood. We had been tricked, and all of our bounty, including barrels of rum, washed ashore.
It's been a long time since the days of Spanish and English commissioned ships exploring the Outer Banks and the days of Blackbeard, but much of the legend from those times still lives in the names of this area. The name of Kill Devil Hills comes from barrels washed ashore loaded with rum that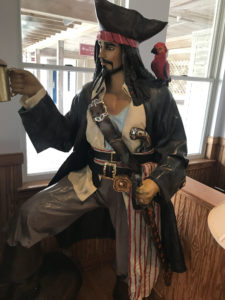 could "Kill the Devil." Nags Head derived its name from the story of locals tying a lantern around the neck of a nag (an old horse) to lure ships to shore. Once the ship wrecked on a sandbar, the locals buried their treasures of rum barrels in the hills.
Technically, the Outer Banks is made up of  the barrier islands of Bodie Island (which used to be a peninsula but is now an island due to tropical storms and hurricanes), Hatteras Island, Ocracoke Island, Portsmouth Island, and the Core Banks. The number of islands and inlets has changed over time because of beach erosion and violent storms causing shifting sands. There are over 100 miles of unspoiled sandy beach along these islands with its fresh, clean air and lack of development.
Our trip took us to the northernmost islands of Bodie, Hatteras, and Ocracoke. A drive across the bridge from the mainland of North Carolina to Manteo was easy access to the two northern islands of Bodie and Hatteras. Ocracoke requires a ferry ride to this southern island.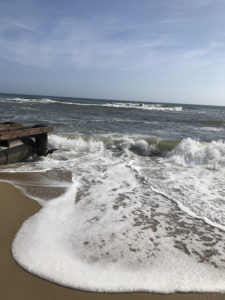 The Outer Banks Beach Club Resort in Kill Devil Hills became our home for the week we visited. Out our window awaited that promised unspoiled stretch of sand and water with plenty of sunshine to make us want to venture along its miles of sand.
Seafood abounds everywhere on these islands. Red Sky Café in Duck proved to be a great suggestion. We met Chef Wes Stepp, the gregarious and enthusiastic owner of Red Sky Café. He emphasizes fresh food presented in its more natural state. Laden with a tray of three of his most popular dishes, Chef Wes encouraged us to enjoy every bite, and we did. The quesadilla of black beans, blue crab, and brie made us salivate with each bite. Then there was the clean, crisp salad topped with more blue crab and burrata—so fresh and unadorned. And lastly, the tray was piled with soft and flavorful grits topped with the local shrimp. What a bounty of delight. Chef Wes will also show off his expertise by preparing a dinner in your beach house through his company called Chef on Call. We only wished we had time to try this creative endeavor.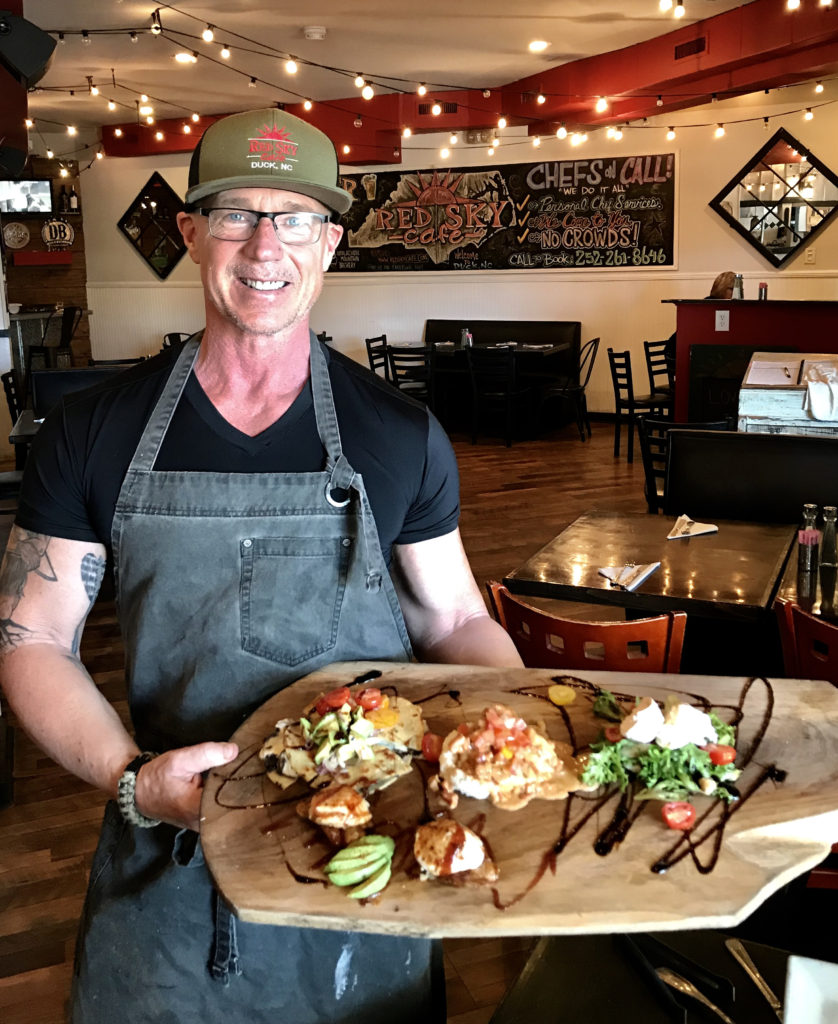 Just north of Duck is the community of Corolla with a population of 500 year-round residents but thousands in the summer. There are approximately 5,000 rental houses available on a 20-mile stretch of Currituck. There are no hotels, so these homes act as a temporary residence with many of them having 10-12 bedrooms. It was great being there in the off-season to meander into the local bookstore and visit the Currituck Beach Lighthouse with its 214 steps to the top of this 1875 red brick building.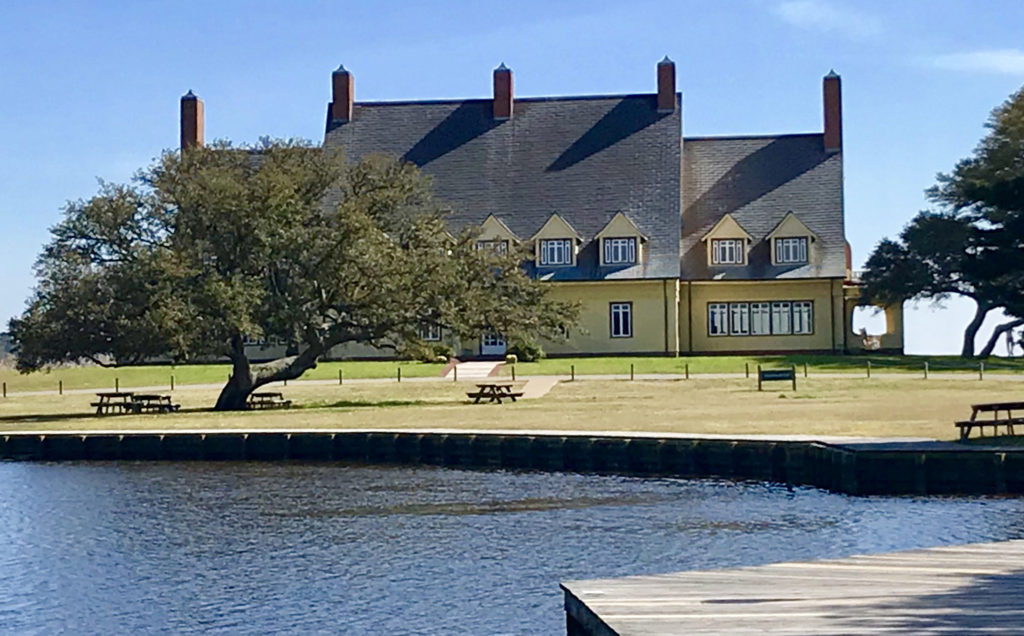 Next stop in Corolla was Whalehead. Set on 39 pristine acres along the Currituck Sound in Historic Corolla, the Whalehead is a beautifully restored 1920s-era Art Nouveau-style mansion listed on the National Register of Historic Places. The mansion abuts Currituck Heritage Park and the Outer Banks Center for Wildlife Education. We could fantasize about the parties that must have been held in this exquisite mansion.
A beautiful sunset along the sound drew us to the The Blue Point Restaurant in Duck. When in a region, we believe we should eat food from the region. Our dinner this evening was a large charcuterie called "Taste of Southern Goodness," and it was. The board held sweet potato biscuits, Edward's ham (Virginia based), tome (a mild, semi-soft cheese), smoked fish salad, pepper jelly, and house pickles. Of course, the perfect accompaniment at sunset was a cocktail called Last Word of gin, green chartreuse, lime juice, and a luxardo cherry served in a beautiful martini glass.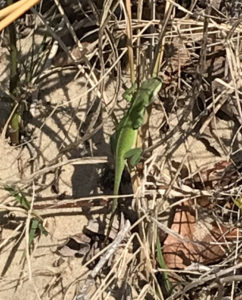 More beach walks because that is why we came to the Outer Banks. And, along the way, we met a new friend frolicking along the beach path.
Our hosts for the trip set us up for lunch at the The Life Saving Station Restaurant in the historic Caffey's Inlet Life Saving Station No. 5 (constructed in 1874.)  The renovated Lifesaving Station Restaurant is at the Sanderling Resort in Duck.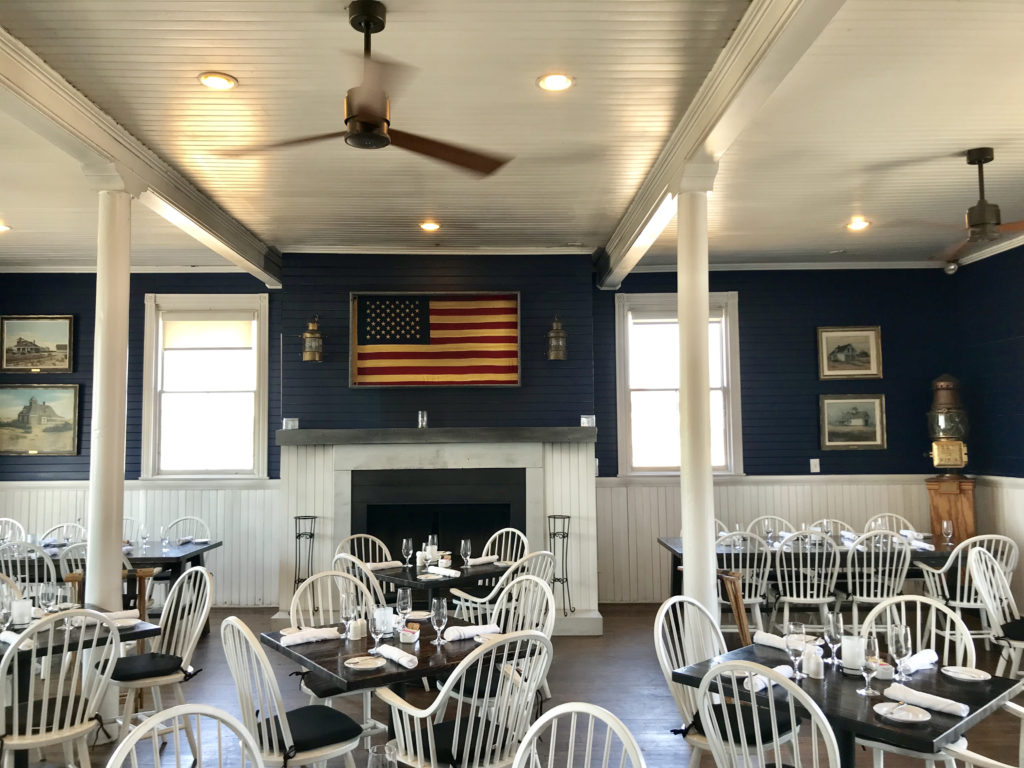 Little did I know that there were seven of these lifesaving stations constructed along the North Carolina coast to assist wayward passengers and crew aboard shipwrecked vessels. Today's United States Coast Guard, started in 1915, grew out of these lifesaving stations and service of private and local humanitarian efforts to save the lives of shipwrecked mariners and passengers.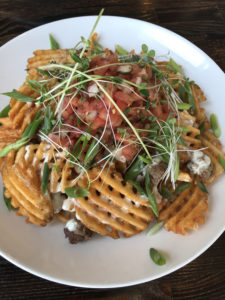 Since we were in an official lifesaving station, it was fitting to try the touted Blue Crab and Corn Chowder as well as the Coastal Crab Cake Sandwich (of Carolina Lump Crab.) Who could resist trying the Loaded Duck Waffle Fries with truffle oil, duck sausage crumble, diced tomato, and gorgonzola cream? After all, we were sharing the main course. We can attest that the guidance we were offered on these choices was perfect.
The Outer Banks are also known for Orville and Wilbur Wright's remarkable flight at Kitty Hawk. It's fascinating imagining how these two brothers decided by laying on their backs and watching birds fly that they could build a machine to do the same. They achieved the first successful airplane flights on December 17, 1903. The Wright Brothers National Memorial paints a picture of the first flight of these two brothers with its bronze sculpture of the glider with Orville atop it, and Wilbur who steadied the wing, along with five other men, including a photographer.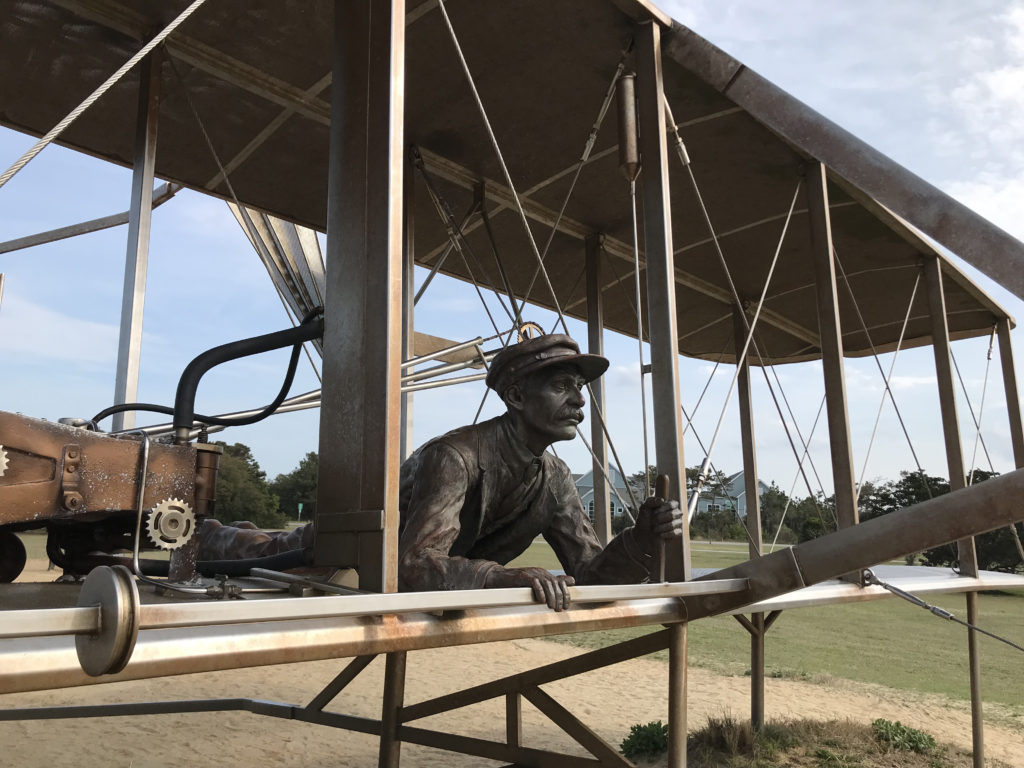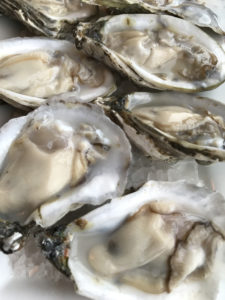 Always looking for that perfect place to have a sunset, Blue Water Grill & Raw Bar in Nags Head proved to be a great spot with a window seat overlooking the small harbor of boats. Fresh oysters are offered during Happy Hour along with Fried Green Tomatoes topped with baby arugula.  The addition of the Baja Fish Tacos made with a locally caught fish hit the spot. Again, we were looking for local fish, and we found it perfectly prepared.
A lot of this fish comes from the fishing area of Wanchese on Roanoke Island. We found The Landing Grill there a great spot to mingle with the locals and sample some of the best shrimp we have ever had.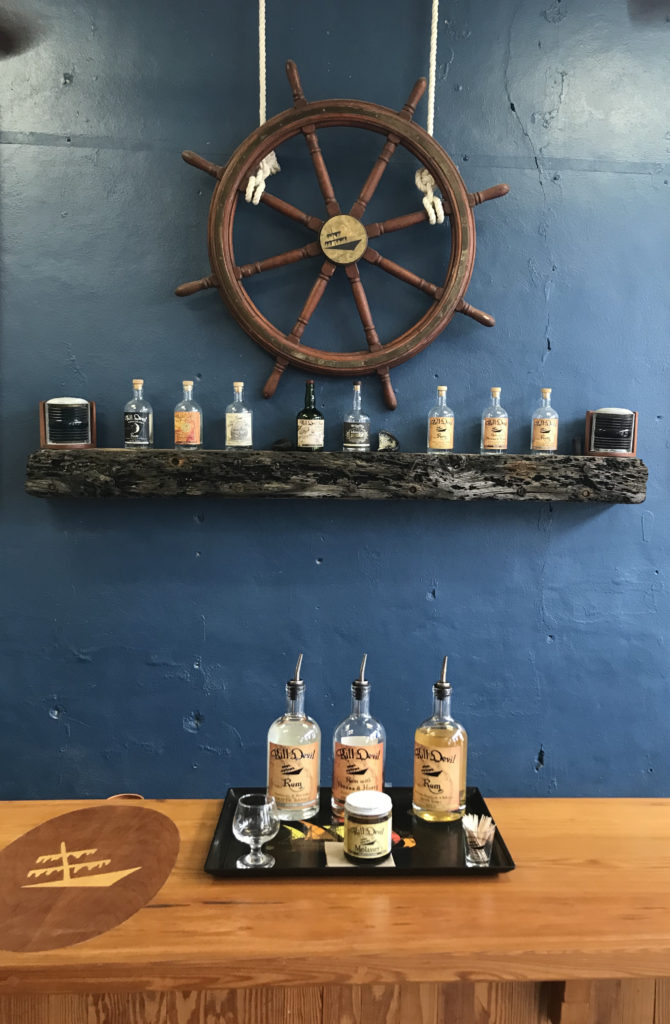 When on the Outer Banks, head to Outer Banks Distilling to meet one of the owners, Matt Newsome, a truly knowledgeable distiller. Samples of the distillery's delicious rum are part of the tour, and we saw many bottles being purchased after the tour. Look for an article soon about this distillery and all that we learned from Matt.
For a chance to meet Blackbeard and other pirates and walk aboard the Elizabeth II, visit Roanoke Island Festival Park. Learn about The Lost Colony, the first attempt at founding a permanent English settlement in North America. Virginia Dare was born there, making her the first English child born in the New World. To this day the mystery continues about what happened to its inhabitants. Roanake Island Festival Park is a great spot for children to explore interactive exhibits, including a chance to dress like a pirate, watch a blacksmith, and see how an American Indian town looked.
Head to The Avenue Waterfront Grille in Manteo to meet Chef Thomas Williamson and friendly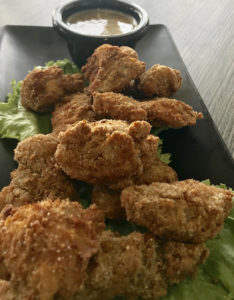 general manager, Maria Williamson to experience another beautiful sunset with a view of the bridge and sailboats docked at the pier. Try the Pecan Chicken Bites, bite-sized pieces of pecan fried chicken, tossed in Tabasco maple butter with creamy honey Dijon on the side. When in the South, experience all things Southern. The Tuna Sushi Style, as fresh as can be, is another great choice if you are looking for something lighter.
Wake up to seeing beautiful kites flying outside the window of your rental and take a brisk walk to wear off some of the amazing food in this area. There are plenty of kite shops where you can find your own special kite to fly, too.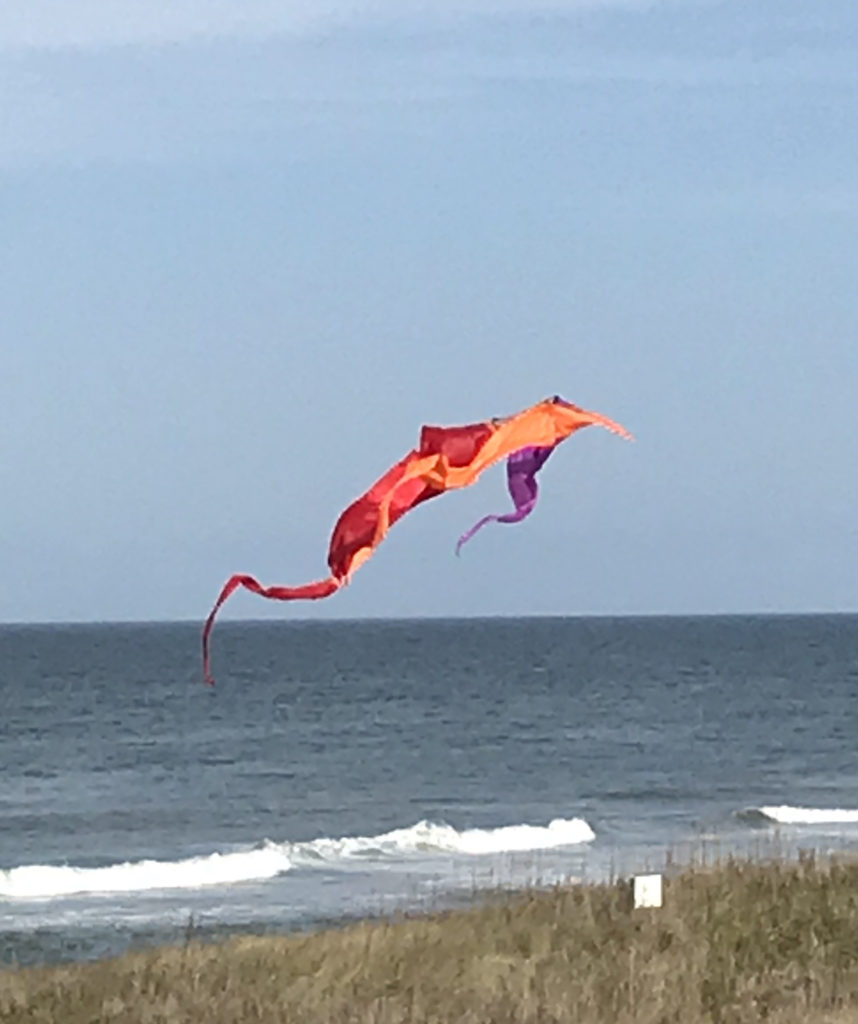 Another highlight of an Outer Banks trip is Trio Restaurant & Market in Kitty Hawk. An interesting and unique array of cheese from regional, domestic, and international artisan producers provides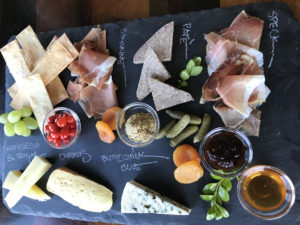 an opportunity to select cheeses to take home. The self-service wine tasting machines allow wine lovers the opportunity to taste 24 wines.  The beach's largest selection of rotating craft brews can also be found here with 24 selections on tap. And then there is the restaurant featuring a menu of simple preparations to enhance exceptional ingredients. If possible, find John Minnich, one of the owners, to learn everything there is to know about beer. Look for an article about all things beer from this knowledgeable person. For dinner, the same owners offer casual waterfront dining with a glorious sunset view at The Village Table & Tavern in Duck. Great cocktails await guests and you will find some of the best fried oysters found anywhere that are lightly breaded and very gently fried.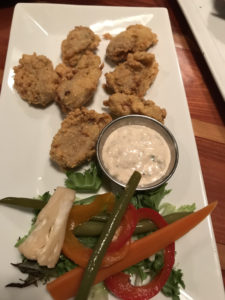 Wild horse tours await visitors to the Outer Banks. Corolla Outback Adventures in Corolla takes tourists in safari style off road vehicles where the road ends across the sand of the northern beaches, including 60 acres of land the family has donated as a Wild Horse Sanctuary. Be sure to wear a very warm coat to enjoy viewing these horses in their natural habitat.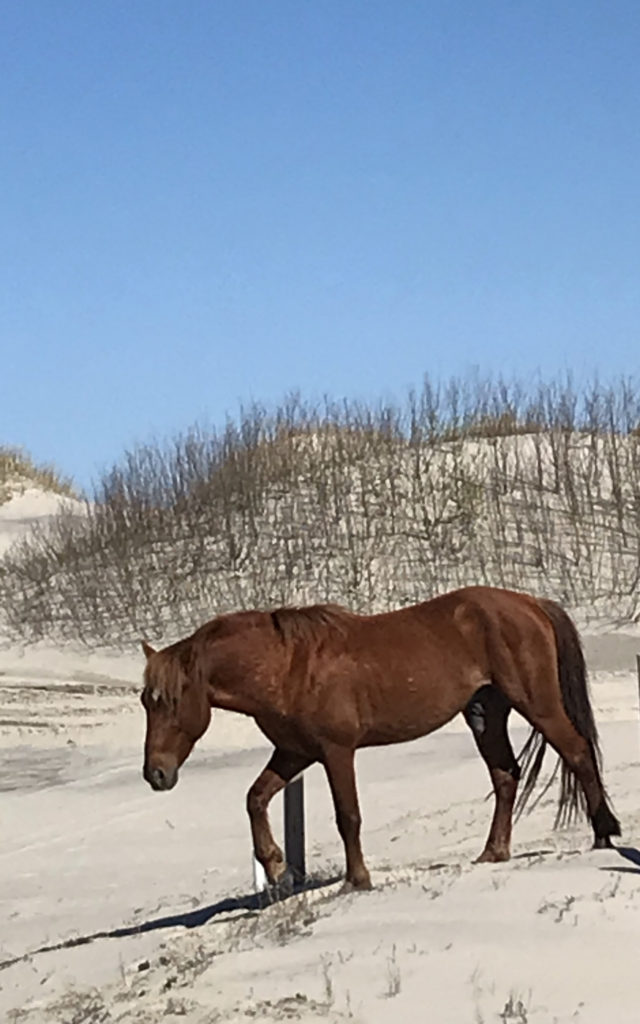 Lighthouses adorn the islands and still provide a valuable service to ships traveling these wild waters. Cape Hatteras Lighthouse on Hatteras Island is the largest lighthouse structure in the United States and guards over the "Graveyard of the Atlantic." Climbing the lighthouse means you climb 248 steps up the staircase. It's a great way to wear off all the food you may be eating on your trip.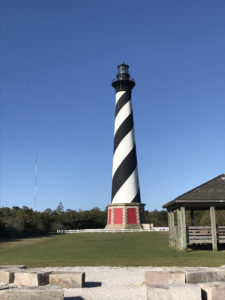 Ocracoke Island offers a getaway from the crowds as well as for the locals on the northern islands. Look for a tour to take you for the day, or better yet, take the tour and stay for the night to truly experience this low-key destination. Enjoy the day by relaxing on the beach, learning about Blackbeard, parasailing, renting a boat, kayaking, and roaming around the village.
The history, folklore, seafood, and unspoiled beauty await travelers to the Outer Banks. We were hosted at several venues but the enjoyment we experienced was all ours to share.