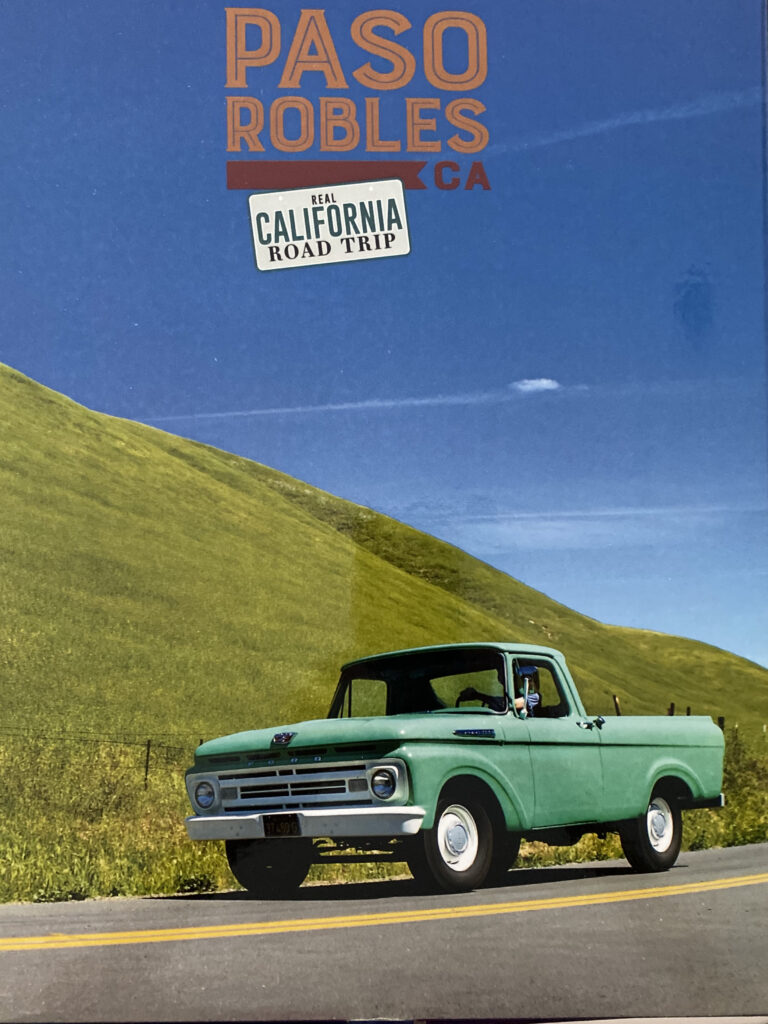 Paso Robles is definitely a sweet spot in California. It is equidistant from Los Angeles and San Francisco and within a half hour of some of the best beachfront California has to offer. Paso Robles is best known for its wineries which are set among the rolling countryside with ample space to let a visitor enjoy the bucolic country atmosphere of vineyards interspersed with walnut and olive trees. It is often described as free-spirited with a cowboy informality. There is even a Cowboy Loop to be explored that is made up of farms and ranches.
The International Food, Wine & Travel Association traveled virtually to this special place recently. Stacie Jacob, Chief Strategist for Solterra Strategies, Mike Dawson, Media Strategist for Solterra Strategies, and Laura Ralston, Account Coordinator, all Paso Robles residents, led us on this tour.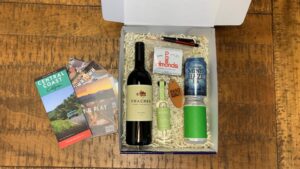 Every participant received a classy gift box with the message on top of the box "Paso Robles, CA, Real California Road Trip." Inside we found so many goodies that represent the area. Each of us received a bottle of Thacher Zinfandel, a small bottle of Re:Find boutique Vodka, Tin City Pineapple Cider, and Firestone Mind Haze IPA. To munch along with all these delectable beverages was Paso Almonds almond brittle. Needless to say, I was blown away with such a beautiful presentation.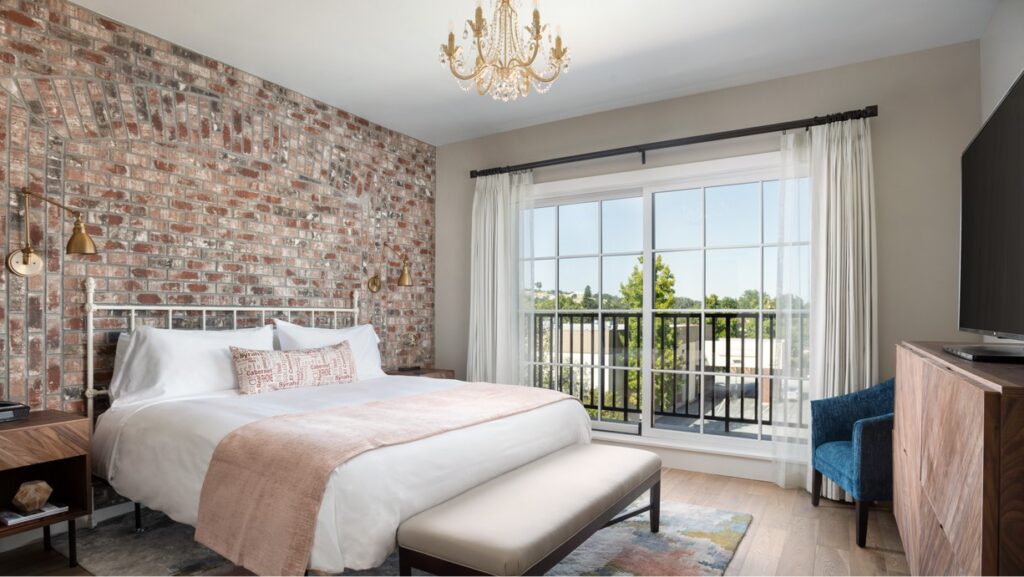 From the photos we saw of the new Piccolo Hotel in downtown Paso Robles and description by Martin Beckett, Director of Hospitality, I want to stay there on my next visit. The rooms have exposed brick walls as well as hand crafted and painted furniture by local artists, creating a sophisticated yet rustic environment. With just 24 rooms on the property, I guess I need to book my room early. Two other touches I must see are the chandeliers produced by a local blacksmith and the "Moet" vending machine in the lobby. What could be wrong with that!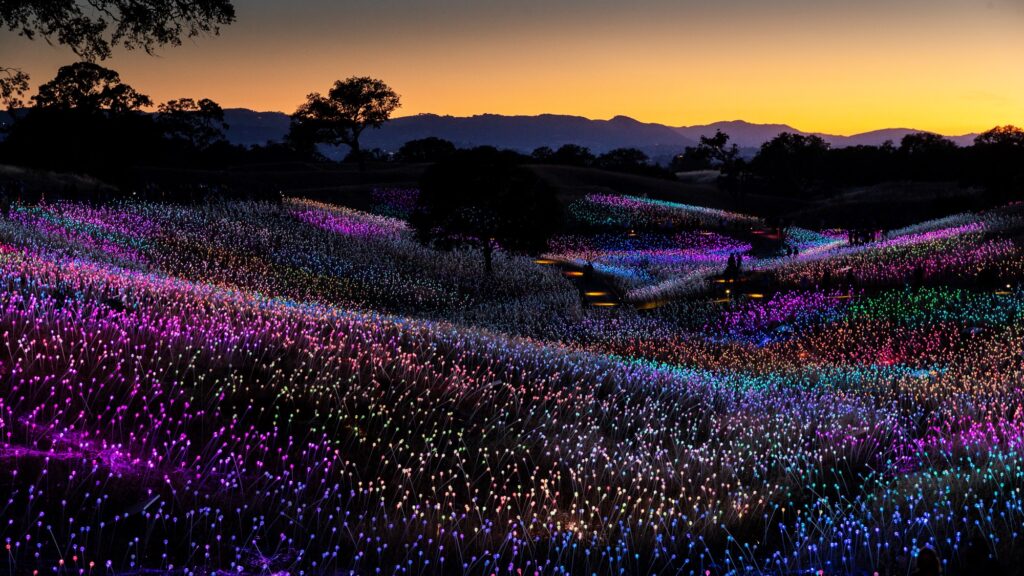 On my bucket list of what to do in Paso Robles is the Field of Light at Sensorio. Senorio is comprised of 58,800 stemmed spheres lit by fibre-optics and powered by solar energy that lights up the rolling countryside in a soft and magical glow. This multi-acre walk-through installation was created by artist Bruce Munro and was chosen by the New York Times as #6 in its "52 Places to Go in 2020." The exhibit will operate through January 3, 2021. If you go, make sure you purchase your tickets several weeks in advance on the website because they do sell out.
Tin City is a relatively new addition to Paso Robles and one not to be missed. Located in a small warehouse district of modern tin industrial-style buildings, you will find a budding craft California beverage scene where you can sample and purchase small production beverages not found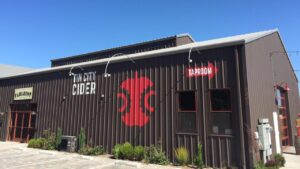 elsewhere.
Outgoing General Manager, Todd Jones, at Tin City Cider shared some of the favorite ciders available at Tin City Cider such as Parrot Head, Poly Dolly, and Cider & Rosé. While you are there, you will want to participate in some of the lawn games and enjoy food from the region's food trucks as well as some gourmet eats permanently located at Tin City like the creative sheep's milk ice cream at Negranti Dairy & Creamery.
Another new and exciting development is the Paso Market Walk, a mixed use development of residences as well as overnight stays described as "The Gateway of Paso Robles" on Highway 101. In addition to a place to stay and relax, try some craft beverages, taste creative food preparations, and shop at the nearby Downtown Square. Paso Market Walk  is home to food and beverages from hand-picked farmers, ranchers, vintners, and chefs of sustainable local food.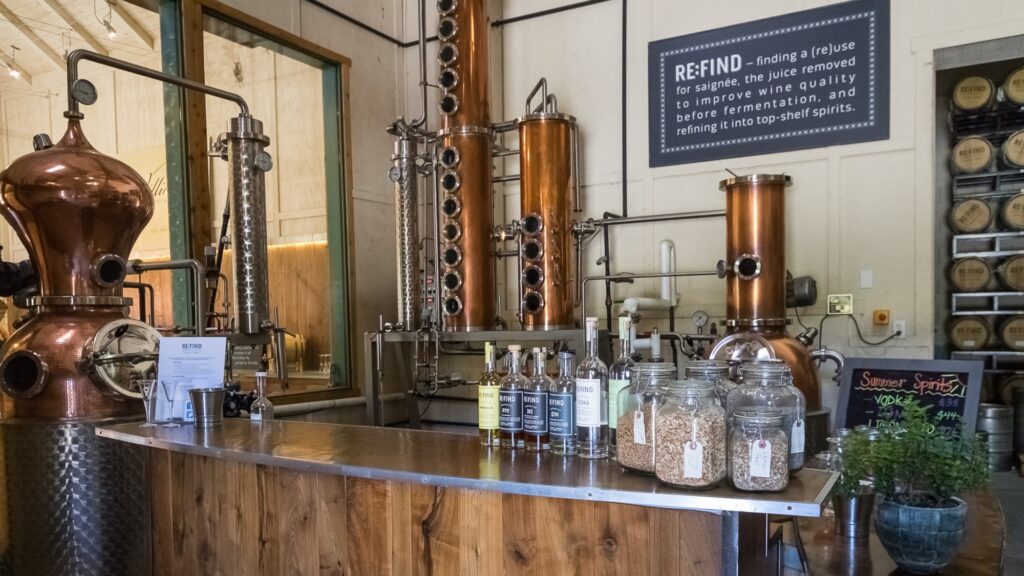 In 2011, Monica and Alex Villacana launched Paso's first distillery, RE:FIND Distillery. The Villacanas stumbled upon the idea of a distillery while harvesting at their winery, Villacana Winery. They were syphoning off a portion before starting the fermentation process. They used to throw away this part and then started thinking that vodka can be made from grapes, hence the name RE:FIND. Flavors of Limoncello Liqueur, Kumquat Liqueur, and Cucumber Vodka are just a few they produce. In addition, they make rye whiskey, wheat whiskey, gin, and bourbon. Tastings are available outdoors Thursday through Sunday. It is a great idea to make a reservation.
Firestone Walker Brewing Company has several locations. Paso Robles is where they make all of their core beers as well as  barrel-aged offerings. Adam Firestone and David Walker, brothers-in-law, came up with the idea of a brewery after debating about what made the best beer. Besides a taproom, there is also an outdoor side patio and courtyard where food from the gastro pub is available to compliment a beer choice. There are some beers with  interesting names such as Mind Haze, Gin Rickey, and Feral One. The taproom is open every day of the week except some holidays.
Of course many visitors to Paso Robles come for a chance to do wine tasting. There are over 200 wineries with most of them being family owned and operated. In our box, we found a beautiful Zinfandel from a small production winery called Thacher Winery.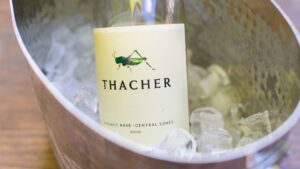 That little grasshopper on the label of the wine in our box captured my curiosity. General Manager, Tony Quealy, told us that grasshopper comes from the family crest of Sherman Thacher, wine maker and manager, along with his wife, Michelle. When thatch is harvested, grasshoppers explode into the air in all directions. This small production family-owned winery produces just 5,000 cases of wine and 26 different varietals of Rhone blends and Zinfandels. They have been hand crafting wines from vineyards located throughout the central coast. A visit to this winery should charm anyone with its setting of hay fields, quarter horses, and the old Kentucky Ranch barn. It sounds like a great place to sip some delicious wines.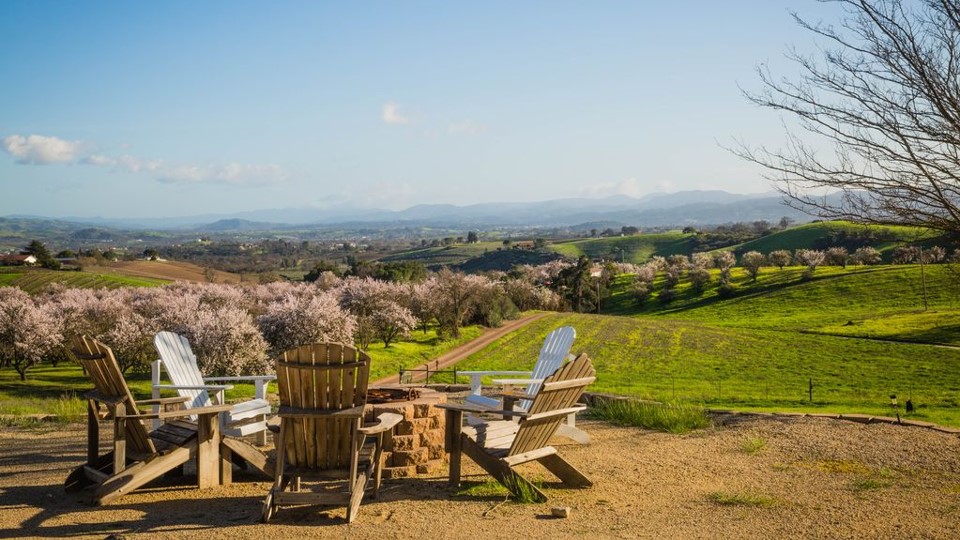 Just 5 hours from my home awaits this pastoral setting with so much to explore. In the past, I have simply done wine tasting which I will do on my next trip, but I am learning about so much more to enjoy in Paso Robles.
Note: Common to the media industry, this writer received samples in that amazing gift box. While it has not influenced this review, the writer believes in full disclosure.