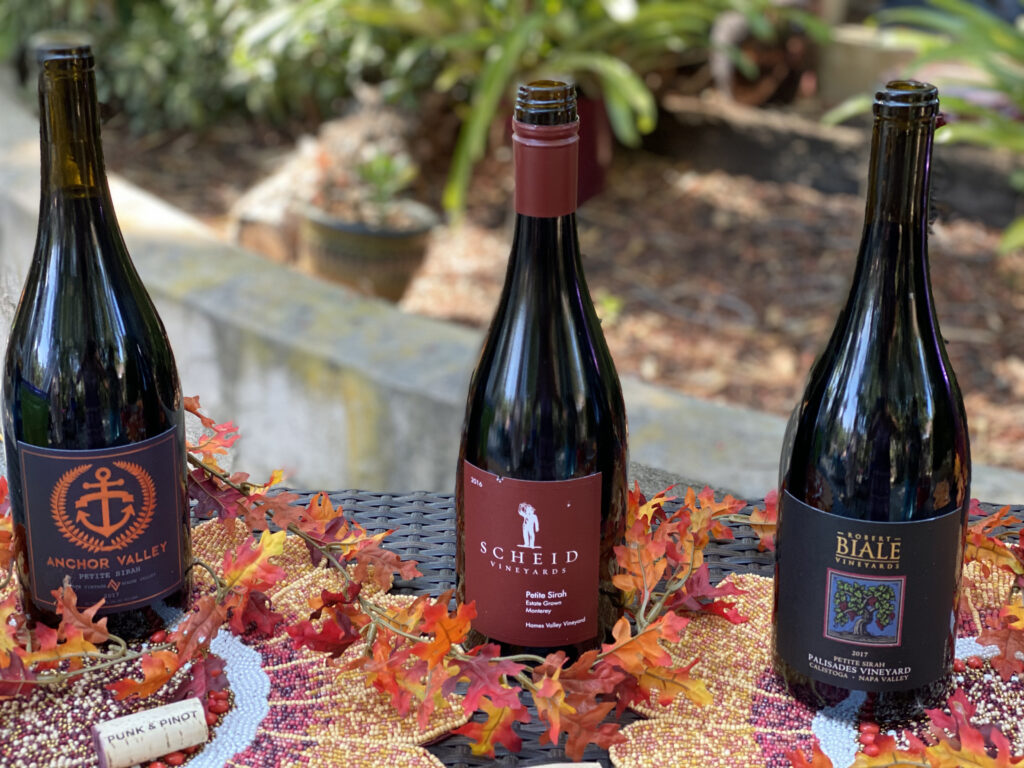 Every few months the Wine Review Council meets to explore new wines and pairs them with delicious dishes. Recently, we met at the home of Marc and Robin Simpson in San Diego. The tropical setting is always inviting. We explored a wide variety of wines, none of which needed a dump bucket. They were all truly delicious.
Sparkling, White, and Rose Wines
2017 Bling Sparkling Wine ($30) This sparkling heralds from Ramona Ranch Vineyard and Winery in Ramona, CA. This wonderful bubbly (that made me order 3 bottles) is prepared in the méthode champenoise (where the wine is put into bottles to undergo the secondary fermentation) and is 99% Chardonnay and 1% Pinot Noir (for color.) We had this sparkling as an aperitif. Bling was very refreshing and not at all overly sweet. It was  crisp with stone fruit essences.
Ramona AVA covers 89,000 acres spread over 139 square miles of rural countryside north of San Diego with 50 commercial vineyards and 25 wineries. Ramona was just designated its own AVA in 2006 so you can see how rapidly it has grown.
2019 Anchor Valley Pinot Gris from Eagle Point  ($25) The Rogue Valley AVA of Southern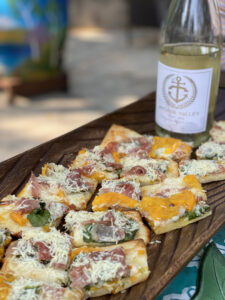 Oregon outside Eagle Point, Oregon, is home to Anchor Valley Wine. Just like you want a good pinot gris to taste is what you find in this wine. There are flavors of lemon and green apple with some earthiness of wet stone and even some nectarine. This pinot gris is refreshingly dry.
Owners Joe Moxley and Mike Herrera first teamed up to focus on the rock 'n roll world and the clothing associated with it. Once they realized their partnership worked, they branched out to wine and partnered with award-winning winemaker, Matthew Cates.
Anchor Valley Pinot Gris was accompanied by a Flatbread of yellow heirloom tomatoes, spinach, pecorino cheese, prosciutto, and olive oil infused with rosemary and garlic.  The saltiness of the cheese and prosciutto balanced out the fruit forward pinot gris.
2019 Tres Sabores Sauvignon Blanc ($30) A Vineyard based in St. Helena that has been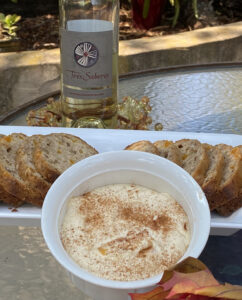 described as old Napa where you won't find a fancy tasting room or snobbery, just great wine in a spectacular setting. Tres Sabores Winery (three flavors) comprises terroir, the vines, and the spirit of the wine.
As a sign of our times, Tres Sabores is offering a virtual Zoom winetasting with owner and winemaker Julie Johnson.
Organic practices are used in the vineyards. This wonderful Sauvignon Blanc has all the flavors of honeysuckle, citrus zest, and cider apples. We found length on the finish and some acidity to make a lasting impression. We paired this wine with an Apricot Walnut Sourdough Bread.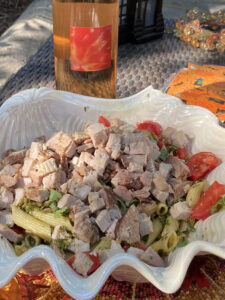 2019 Tres Sabores "Ingrid & Julia" Rosé ($30) This lovely rosé is made from Zinfandel and Petite Sirah. It was prepared in the Provencal style of being dry with a great acidic balance and low alcohol that doesn't overwhelm food pairings. It is best described as graceful and enticing, just like the two favorite roses from which it got its name.  The perfect pairing was a freshly cooked and smoked Ahi Tuna Pasta Salad mixed with a Moroccan Chermoula Sauce (Think garlic, cilantro, cumin, parsley, cayenne, paprika, and coriander.)
Bring on the Red Wines
2017 Awen Sangiovese, Garvin Family Vineyards, ($40) Rogue Valley Volcanic soils enhance this Sangiovese. The unique label for Awen Winecraft with three lines symbolizes the bond between earth, sun, and the vines. The winemaker ferments in used barrels which makes this Sangiovese softer.  Sourcing of grapes is from the Garvin Family Vineyards, located in Sam's Valley in the northernmost end of the Rogue Valley AVA. True to Sangiovese, we found flavors of cherry, vanilla, and brown sugar. This wine is light on tannins, a good wine for those seeking a smoother taste. Italian meatloaf paired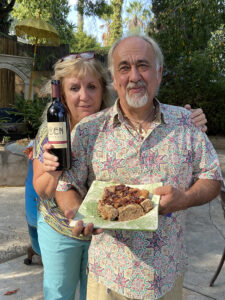 well with this smooth red.
Petite Sirah
The next three wines are Petite Sirahs. This grape is often confused with Sirah, but they are not the same. Petite Sirah gets its name from the small size of the grapes. There is a high skin-to-pulp ratio which offers up a dark, inky pigmentation that is opaque in color with lots of tannins. The trick to making a great Petite Sirah is to bring out the fruit and calm the tannins. If you like full-bodied reds, Petite Sirah is your jam.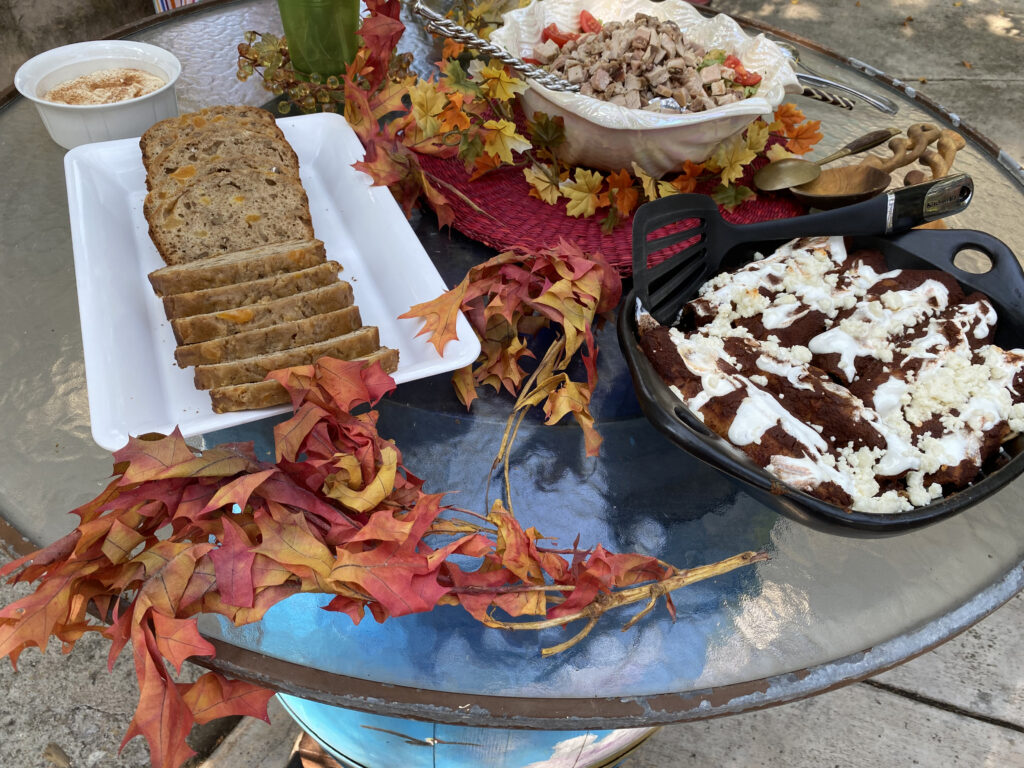 2016 Estate Scheid Petite Sirah ($36) You will find Scheid Vineyards located in the Hames Valley AVA in the Salina Valley with the Santa Lucia Mountain Range as its backdrop in Monterey County. The diurnal shift, the difference between the day and night temperatures, is one of the greatest shifts to be found in Monterey County. This big shift helps produce big, tannic reds.
Scheid Vineyards practices sustainable farming where hand harvesting takes place and fermentation happens in small one and a half ton bins and placed in small oak barrels for 20 months.
I find the history of Scheid Vineyards fascinating. It doesn't start with a romantic dream of telling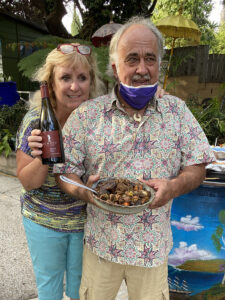 your friends that you own a beautiful vineyard. In 1972, Al Scheid purchased the property  to form a limited partnership which allowed investors to offset losses against regular income. A Harvard graduate and investment banker found his perfect tax shelter. Later he brought on his Wall Street options trader son, Scott, and his daughter, Heidi, a business valuation consultant, as part of the team.
As time went on, changes needed to be made in the grape varietals and methods of growing. Today, they own 12 estate vineyards and no longer sell their grapes but craft their own small production wines.
This was a delicious Petite Sirah. Tastebuds awake from the full bodied wine with blackberry, plum, clove, and lovely tannins with a long finish.
This was a perfect pairing of a Moroccan Beef Stew of pearl onions, carrots, chopped beef, cardamon, cinnamon, cumin, star anise, and black pepper. Petite Sirah needs a rich and spicy dish to accompany it, and this stew did the trick.
2017 Robert Biale Petite Sirah ($58) The Oak Knoll district of  Napa Valley is where you will find Robert Biale Vineyards. Taste buds are treated to this Petite Sirah varietal with its plum and dark cherry as well as leather textures followed by mocha and coffee beans. I loved this full-bodied and fleshy wine with a long finish.
A little history of this vineyard is fascinating. Vineyards have been planted on the geological formation known as the Palisades since at least 1878. This land sits on an active creek bed of stones, gravel, and well-drained soil, a perfect place to grow amazing wines.
In 1907, the property was purchased by Domenico Barberis who had recently immigrated from Liguria, Italy. Together with his wife, Gilda, he planted grapes and plums. They farmed the property until the early 1990s.
The rest is history, and today you will find Palisades Vineyard owners Felicia Woytak and Steven Rasmussen taking care of this wonderful property and greeting visitors to enjoy their lovely wine in this magnificent setting.
I paired the Petite Sirah with Chicken Enchiladas with Mole Sauce. The boldness of the mole didn't overpower the Petite Sirah. This is one of the varietals that can stand up to such a strong sauce.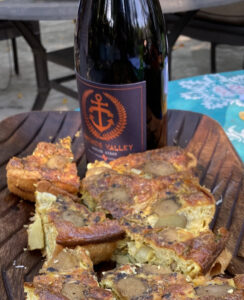 2017 Anchor Valley Petite Sirah (Limited Production) ($35) This Petite Sirah was produced from grapes from the Anchor Valley Vineyards' Eagle Point Vineyard in the Rogue Valley of Oregon. Again, I loved this plumy and blackberry-bold and juicy wine with hints of anise and chocolate. In fact, the blackberry nearly made me believe I was tasting a bowl of those delectable berries. The texture is velvety on the tongue and has a long finish. A quiche of spinach, cheese, and potato paired nicely with the wine.
If you are looking for something special for the holidays, I would not hesitate to purchase any of these wines. I truly enjoyed each and every one of them. Cheers to a good holiday season.
Note: Common to the wine industry, this writer received wine samples. While it has not influenced this review, the writer believes in full disclosure.